What is t-iarumas T&A ?
<Why t-iarumas T&A ?>
t-iarumas T&A is named after the samurai sprit of exporting valuable made in Japan products overseas.
(you can find "samurai" if you read t-iarumas in reverse)
T&A is the abbreviation for "Tools and Abrasive"
<Overview of the company>
t-iarumas T&A Inc. was established in 2003.
Our main business is the export and sale of abrasives and cutting tools, and other industrial products.
<Market Trends>
The industries we target are mainly the manufacturing industries such as automobiles, aircraft, and shipbuilding.
In particular, our products are used in the manufacture and repair of molds.
For example, polishing stones are used to de-burring protrusions created during the machining of molds,
drills are used to make the necessary holes in molds, and welding machines are used to melt new welding materials into molds when they are chipped.
In recent years, our products are used in a wide range of fields, like telecom-related (including mobile)
semiconductor manufacturing equipment, electronic components, and automotive components (including electric vehicle)
and also in medical industries, machine tool industries.
Our business model

We are exporting the best Japanese abrasive & Tools for Foreign distributor and Foreign User.
Our strength - compared with buying directly from supplier
Minimum order quantity is small
When you need to order with small quantity, sometime buying directly from supplier need a big quantity.
In such case, we will be bridge between you and supplier, and prepare for small quantity.
Quick delivery
We have a lot of commercial channel and stock. When buying directly from supplier needs a long time for deliver,
we will supply items you need in a short time.
Build a bridge between manufacturers and users who are not used to dealing with overseas
In Japan, there are lots of good supplier, however some of them are not familar with English.
we will be a bridge so that you can communicate smoothly with the supplier.
Our strength - compared with buying from other whole sellers
More than 100 product brands handled
Dealings with a large number of forwarder (discounted shipping costs, delivery by your nominated courier, various packing formats)
Provision of technical information accumulated through years of business transactions
Provide services to increase customer loyalty
COUNTRIES WE HAVE MADE TRADING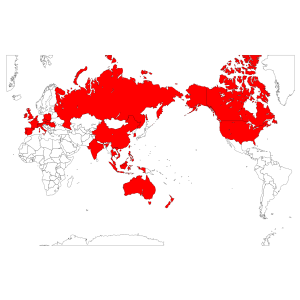 MESSAGE
We provide our distributors with optimal proposals for improving quality, cost, and delivery time
(taking into account the user's working environment, current product specifications, annual purchasing volume, transportation costs, etc.).
In addition, we regularly hold meetings for product introduction, technical explanation,
and marketing activities to encourage your users to buy products.
We also help users improve quality, cost, and delivery time by introducing them to local distributors or establishing a direct sales system.